Image: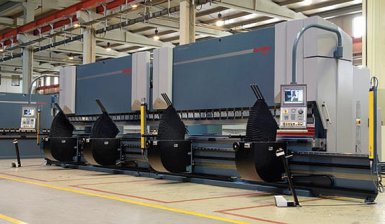 Durma FBS (Flexible Bending Solutions)
Advanced technologies for bending large sheet metal for extremely diversified uses in different industries while avoiding long, expensive welding operations which even takes the risk of material stability.
FBS focuses also to minimise the large work pieces handling before, during and after the bending operations and respects the next process. By this way offers:
Flexibility of bending varies for diversified uses

Accuracy for large and high spring-back sheets

Lowers setup times by automation of loading and unloading

Increases your employees' safety
On high tonnage mega press breaks, "box construction" frame is used which is the most stable machine body in the world utilised technology for press brakes. Stability and rigidity of box constructions is approved by our references all around the world and finite element analysis on the computers.
New Century Machinery can provide you with all the support and Flexible Bending Solutions and offer turnkey automatic bending cells complete with the facility for loading and unloading.
Download the FBS Brochure