Image: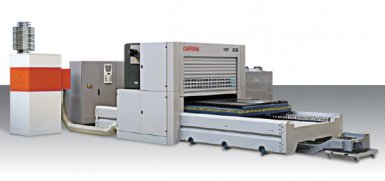 Durma HD-M Hybrid Laser Cutting Machines
Durma hybrid laser cutting machines offer great flexibility, efficiency and accuracy. The system works as "hybrid" principle in which the cutting head moves in the Y axis and table in the X axis. The axis and table move with high precision ground ballscrews with direct drive technology. No belt and any transmission between the motors and ballscrews. This eliminates potential backlash problems. The Durma HD-M also features high productivity, easy to operate, low running cost, less maintenance, clean environment and high cutting technology.
In laser cutting machines it is very important to keep the beam width constant in order to achieve uniform cutting quality over the entire cutting range of the system. The HD-M Series achieves this by twin mirrors moving synchronously with the cutting head, keeping the beam width constant over the full travel and range. A cutting data library facilitates the cutting processes without any regulation. A cutting parameter page offers operators an easy way to regulate parameters when a special material needs to be cut. Cutting pressure, cutting gas, cutting speed, speed power, gas modulations and piercing cycles can be regulated easily through this user interface.
| | |
| --- | --- |
| Standard Equipment |            Optional Equipment |

 

| | |
| --- | --- |
| ♦ | Compact, Hybrid system Laser Cutting Machine |
| ♦ | PRC STS 2500W Laser source (Resonator ) |
| ♦ | CHILLER KLB-S 26-T tropical version Prevents condensation in hot and humid environments |
| ♦ | Siemens 840D CNC Controller |
| ♦ | Color screen |
| ♦ | CAD CAM Software |
| ♦ | Converyor belt |
| ♦ | Scrap collection box |
| ♦ | Laser Positioning diot ( Tracks the same way of laser beam on the sheet before cutting) |
| ♦ | Laser Cutting head with 5" , 7,5" lenses ( Lens Adjustable ) |
| ♦ | Changable lens holder for lenses with different focus length |
| ♦ | Central lubrication system |
| ♦ | Special laser cutting options |
| ♦ | Speed-Power modulation in order to get Sharp edges |
| ♦ | Fast-follow , Head follows the sheet with high speed and precision |
| ♦ | Simple user interface parameter page , Power-Speed-Pressure combination |
| ♦ | Cutting possibility with air |
| ♦ | Web cam for service |

 

| | |
| --- | --- |
| ♦ | Compact dust extractor (Filter) - 2500m3/h |
| ♦ | Add. External Software Dongle |
| ♦ | Transverse conveyor belt |
| ♦ | Tankheating cooling device Laser ( if ambient temp ˜ 17°C) |
| ♦ | Transformer 220,440,575V |
| ♦ | Special paint for machine |
| ♦ | Laser Service Set |
| ♦ | Lens ( 5" or 7,5") |
| ♦ | Nozzle ( 1.0 - 1.2 - 1.5 – 1.8 - 2.0 – 2.5 - 3.0 ) 2 of each |
| ♦ | Polish – 250 ml ( cleaning lens and mirror ) |
| ♦ | Cotton ball – 100 pcs |
| ♦ | Acetone – 50 ml |
| ♦ | Cleaning Tissue ( lens and mirror )- 500 pcs |
| ♦ | Thermal paper – 10 pcs |
| ♦ | Ceramic part - 1 pc |

 

 

Specifications subject to change without notice
Download the HDM Brochure