Image: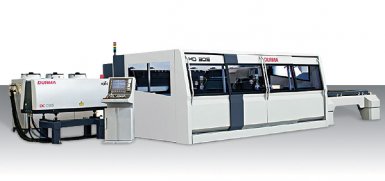 Durma HD Series Laser Cutting Machines
High speed 2D laser cutting machines work with the flying optics principle. In this design, the raw sheet rests on the cutting table and the laser head moves in both X and Y direction. In this concept the frame and the gantry are welded and then stress relieved to eliminate deviations in the overall structure that can occur during the welding process.
All moving axis are driven by dynamic low inertia and high performance and maintainence free AC servo motor or high Dynamics Linear motor motion system.
View the HD Series Laser Cutting Machine video here.
| | |
| --- | --- |
| ♦ | Compact design |
| ♦ | Various material types and thickness can be cut to any desired shape without tooling. |
| ♦ | Capability to cut a hole diameter smaller than sheet thickness |
| ♦ | Precise and dross free high quality cutting without need for secondary edge attention |
| ♦ | Silent and clean working environment |
| ♦ | Low operating costs |
| ♦ | No "warm-up" period for reduced startup times |
| ♦ | Durable long lasting optics |
| ♦ | True beam diameter held over 12' |

 

 

 

| | |
| --- | --- |
| Standard Equipment | Optional Equipment |

 

| | |
| --- | --- |
| ♦ | Control unit SINUMERIK 840D / 500 MB |
| ♦ | Logbook function laser |
| ♦ | USB 2.0 |
| ♦ | TFT colour screen |
| ♦ | RJ45 network connection |
| ♦ | Network connection incl. installation |
| ♦ | "Cutting head Precitec HP 1.5" Can Bus with Full diagnostic |
| ♦ | Full diagnostic Head controller EG8010C |
| ♦ | Integrated piercing sensor |
| ♦ | Integrated plasma detection sensor |
| ♦ | Integrated 3 temperature sensor |
| ♦ | Integrated Lens Breakage sensor |
| ♦ | 5", 7,5" Lenses |
| ♦ | Exchangeable cartridge system for different focal lengths (dia 1,5'' lens)" |
| ♦ | Nozzle set of 3 pieces from each 1.0 - 1.2- 1.5 - 1.8 - 2.0 - 2.5 - 3.0 mm |
| ♦ | Optical mirror 1 Set (5 pieces LT Ultra) |
| ♦ | FlyCut |
| ♦ | Continous cutting after PowerLost |
| ♦ | Ceramic part set. 2 pieces |
| ♦ | Shuttle table (Automatic palette change system) |
| ♦ | Sheet-Check (Autom.sheet position and dimension sensing system) |
| ♦ | Positioning laser diode |
| ♦ | Central lubrication |
| ♦ | Conveyor for small parts / slug |
| ♦ | Slag car under pallet changer |
| ♦ | Simple user interface parameter page ( Power-speed-pressure combination ) |
| ♦ | External Cad/Cam Software with Autonesting |
| ♦ | Laser power control |
| ♦ | Nitro-Cut ( High pressure cutting) |
| ♦ | Progr. Cutting gas selection/pressure setting |
| ♦ | Programmable power cycles |
| ♦ | Sprint-Cut ( Optimisation of cutting-line) |
| ♦ | SmallHole-Cut |
| ♦ | Machine up to 43°C ambient temperature |
| ♦ | Illumination for working area |
| ♦ | Multi chamber exhaust system |
| ♦ | Safety devices |
| ♦ | Workshop programming |
| ♦ | Beam tube ventilation with Air or N2 |
| ♦ | Air cutting |
| ♦ | Pilot lamp |
| ♦ | Premix laser gas |
| ♦ | Exhaust air fitting at compact dust extractor |
| ♦ | Special laser cutting options |
| ♦ | Sharp corner overheat protection ( Speed-Power modulation) |
| ♦ | Fast follow property of the head for high precision |
| ♦ | Training support for Cad/Cam programming |
| ♦ | Operation training |
| ♦ | Air conditon for electrical panel |
| ♦ | Web cam for service |

 

| | |
| --- | --- |
| ♦ | CE Light barriers for shuttle table |
| ♦ | Laser source Rofin or PRC |
| ♦ | Motorized lens control unit, (Autofocus) |
| ♦ | 10" Lens |
| ♦ | Tank heating cooling device Laser ( if ambient temp 17°C) |
| ♦ | Linear Drive for X1,X2,Y axes |
| ♦ | Add.Laser cutting head |
| ♦ | Add. External Software Dongle |
| ♦ | Clamps (5 pcs.) (not with auxiliary pallets) |
| ♦ | Compact dust extractor (Filter) |
| ♦ | Transformer 220,440,575V |
| ♦ | Spray device |
| ♦ | Special paint for machine |
| ♦ | Laser Service Set |
| ♦ | Lens ( 5" or 7,5") |
| ♦ | Nozzle ( 1.0 - 1.2 - 1.5 – 1.8 - 2.0 – 2.5 - 3.0 ) 2 of each |
| ♦ | Polish – 250 ml ( cleaning lens and mirror ) |
| ♦ | Cotton ball – 100 pcs |
| ♦ | Acetone – 50 ml |
| ♦ | Cleaning Tissue ( lens and mirror )- 500 pcs |
| ♦ | Thermal paper – 10 pcs |
| ♦ | Ceramic part - 1 pc |
| ♦ | Cleaning brush |
| ♦ | Auxiliary pallet slats in MS or SS |
|   |   |

 

 

Specifications subject to change without notice
 Download the HD Brochure